Aug 9th
Pictures from the Cerebral Vortex show (thanks to Ron Moore) are now up, as well as just pics from around the fringe.
July 31st
Fringe 2005 is over, thanks to all who came to see Cerebral Vortex, and to all who posted kind reviews on the cbc website.

Promotion pics for Cerebral Vortex are now online
July 15th
Late Night at the Fringe with Trevor Boris. See the BBP go three on one with Trevor Boris on Monday July 25th @ 11:00 at venue 20. Come see the BBP as they really are for once.
April 23rd
We are going to release our first single, that will be available in local record stores and will also be sent to University radio stations around Canada. But we would like you to help us choose what the first single should be; Dance? My Best Friend? or CPR Team? take the poll below please.
March 7th
Well "Brain Sonata" turned out to be a crazy show, filled with fake blood, flying glasses, some great audience members and some pretty shitty, ones. Thats right we had glasses (amoung other things) thrown at us, but on the lighter side we also had a "BBP" chant that brought us out for a second encore. We'd like to thank Chris Joyal, "JR", and everyone else for all their help.

Feb 10th
In what show did the song "CPR TEAM" debut?

First two correct answers get a pair of tickets to Brain
Sonata
Jan 20th
We got the tickets for Brain Sonata in, and there are pleanty of comps to give away, so heres the deal. Every week we will post a trivia question and the first 2 people to reply with a correct answer will recieve a pair of tickets to the show.

This weeks question: Which member of the Boiling Brain Pot has lived in Charleswood during their child hood?
Jan 14
BRAIN SONATA's NEW DATE: is friday March 4th at the Zoo in Osborne Village Inn, it is still $5 and hopefully will have the same opening acts. start time has yet to be decided, but wear shitty clothes cause you might get sticky.

Dec 29
3 new songs are up on audiostreet for your listening pleasure. Click here to listen

Dec 23
Brain Sonata News: Well get this, the Albert has seen fit to cancell our fucking show, we aren't happy about this at all. What happend is there is a benifit show who wants to perform on the date of our show, and since that is more important our show has been "bumped". So this means we have to re-book the Albert, or maybe do the Collective instead if the Albert won't give us a good date, we'll keep you posted. We can only hope we will get a date that is still in January.
Dec 21
3 Boiling Brain Pot songs have been included in a best of 2004 online poll on Low Budget Radio.Click here to vote

Dec 20th:

Brain Sonata News: One of our opening acts, Dr. Goldfoot and the Bikini Machine has droped out of the show, but will be replaced by Project Wild Rice.



Dec 5th

NEW SKETCH! Thats right, the guys wrote ONE new sketch for the Ronnie Moore X-Mas show on Friday Dec 17th. This will be the first new sketch performed by the BBP in a while, seeing that they did a play for the Winnipeg Fringe, and the last sketch show was Brain Stem on March 6th (After which they needed a creative break from sketches and began the music thing). So come down to the Ronnie Moore X-Mas show on Friday Dec 17th at Forrest Nickerson Theatre, 298 Pembina HWY. 9:00pm start, 10 bucks to see the one new sketch (plus one old one, plus Ron Moore, plus CRUMBS and Jason Beck). And there will be much more sketch goodness to come after Brain Sonata.



Nov 30th

Well now Zalamtrig 6 has a weekly radio show on CKUW 95.9 fm. It is every Weds at midnight, starting this Weds. He will be taking over the time slot which used to be "Brute". It will be renamed "Wild Mood Swings" as soon as possible. Since there is no one doing any shows after 2am he just may stay later on certain nights and play some comedy. Other than that "Wild Mood Swings" will be Industrial, New-Wave and some Metal.



Nov 24th

"A RONNIE MOORE XMAS"

with The Boiling Brain Pot, CRUMBS, Jason Beck.

Friday December 17th, 2004

Forrest Nickerson Theatre, 298 Pembina HWY.

9:00pm start, 10 bucks



Nov 5th

Brain Sonata News: Looks like we've got out both opening acts for the July 15th show "Brain Sonata: in the Key of Lobe". Again we will have the ever popular funny man Ron Moore, and the brand new band "Dr. Goldfoot and the Bikini Machine" Sounds pretty radical to me. The show is looking t be pretty awesome.



Oct 30th

The Boiling Brain Pot wishes everyone a Happy Halloween, what you waiting for, go out put on your costume and party hard folks.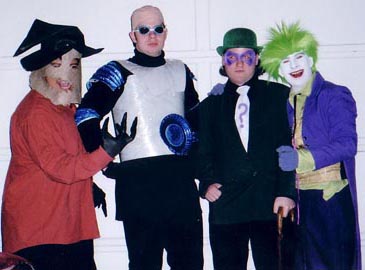 Oct 18th
Back on the Radio: Zamaltrig 6 will be back on CKUW 95.9 FM radio on October 23rd at 6:00am. Again the first hour will be "wild moodswings" then the second hour will be "AJ fadora's padded cell of fun"

Oct 7th
Our first album "Dislocated Brain" (which was previously for sale on mp3.com) is now for sale on our site, if you would like to buy it just head over to the store section

Sept 30th
ITS ABOUT TIME! We finaly have new mp3s up for you just click here There's the funk song, a love song, and a shock rock/industrial song, hope you enjoy. In other news we found out that one of newer songs, "Dance" was played on the radio in the US.

Sept 23rd
HUGE NEWS!! The next BBP show, "Brain Sonata: In the key of Lobe" has been booked, it will be on Saturday, January 15th at the Royal Albert Arms (The Albert) Mark it down folks. And don't be afraid to help us out if we end up getting lynched for doing a song like Dance.

Sept 21st
Pictures from the Minneapolis fringe are now up, and can be found in the photo section, in the live catagory.

Sept 20th
Zalamtrig 6 will be doing a comedy radio show on CKWU, which is 95.9 FM on the dial. The show will be at 7:00 am on Sat October 2nd. The show will be called "A.J Fadora's Padded Cell of Fun" it will run for an hour, and will of course include some BBP material. There will be more shows after that, but we don't know when yet. Zalamtrig 6 will try and get it on a weekly basis some time soon as well. So remember to tune in folks.
PS before "A.J Fadora's Padded Cell of Fun" Zalamtrig 6 will be hosting an Industrial/New-wave/Metalish show at 6:00am. they will run back to back.

Sept 13th
After a 3 week break Zalamtrig and Clamtron just had a meeting to discuss the BBP's future endeavours. As promised the next show will be a all music show. They will play all their songs to date, inluding ones you've heard on www.audiostreet.com. Due to the fact that they must write a few more songs first and rehearse them, the show will not be until mid January, which is a long wait for everyone but its gonna be worth it. Maybe they will do a few odd jobs and appearances around town until then. The show title will be "Brian Sonata: In the Key of Lobe". Once the venue is booked we will announce a date. Right now we are looking at the Royal Albert, or the Collective Cabaret. In other news, the boys have also begun brainstorming the fringe play for next year, and will only give out this much. "It is about two very familiar characters"

Sept 1st
We've added pics from the Winnipeg Fringe, they can be found in the pics/live section. We were unable to get any pictures of the acctual show so the pictures we posted are just of the Winnipeg Fringe in general.

Aug 19th
Out of Brain Experience promo shots are now up in the pics section.

Aug 17th
Back in the Peg, feels good to be home. Heres the rundown for our last two shows. Our second last one saw 42 people in the audience, which was pretty good, it was a really good show as well, lots of laughs and lots of fun. There was this guy who kept laughing super hard and loud during the shit sketch that we couldn't even keep composure, that was great. But our last show olny had 4 people there, and one of them was James' dad. But it was still a super fun show, the 3 ladies in the crowd had a blast, and so did we. Over all I think we're all happy with the way things went back there. Even though many of our reviews are horrible, many of them hated us, too bad none of the people who really liked us were willing to write any reviews. We also noticed that we weren't really getting our target market at our shows, many bible thumping old timers were there, and they thought that we degraded women, had homosexual tendancies (which i guess is a bad thing for them) and had a urge to pull down out pants un public. But we didn't take too much of that to heart. When we go back to the states it won't be in fringe form, its too pricy and we would be perfroming to the old folks again seeing that not too many young people take in shows down there.

We have to send out a HUGE THANKS to CHRIS JOYAL for coming down and stage managing us down there on such short notice, as well as for being our navigator. BOB ROGERS for being supportive and driving us to and from Minneapolis, and for opening up for us on Sunday (His stand up is great). and U.S IMMIGRATION for letting us through the border when they really weren't suppose to. Thanks every one.

HIGHLIGHTS OF THE TRIP IN NO PARTICULAR ORDER

- Clamtron Shitting his pants before every show.

- Trying to walk to our hotel late at night when we were lost and had no clue where we were going.

- Clamtron and Zalamtrig's Towel Fight.

- The nerd debate.

- Clamtron being forced to wear a sombraro on his birthday.

- Mike putting Ritz crackers in Zalamtrig's side of the bed, and in the pillow, then Zalamtrig blaming Clamtron for it.

- Clamtron and Zalamtrig shoving ice down Mike's pants, and in his ass crack.

- The pillow fight in which Clamtron and Zalamtrig Trashed the hotel room.

- Chris getting drunk off of girly drinks and wondering off just before we had to catch the bus.

- The ants that attacked Zalamtrig's pizza

- Clamtron and Chris Throwning Zalamtrig in the pool, getting his wallet, shoes, and pants soaked.

- Trying to find slurpee's.

- Being held at the border for 2 hours thinking they wouldn't let us through.

Aug 12th
The show on Tuesday wasn't what we had hoped as far as turnout goes. We only got 18 people which was a let down. But on the good side it was probably the best audience we've had down here yet, they were really fun and liked the show allot, and more than one person got up and danced during the CPR Team song. Lets hope that the crowd is just as good and bigger for tonights show. And we have also found out that we will be getting paid by the fringe as they have agreed to pay for our "accomodations" down here. Over all the Fringe staff have been really nice and helpful. And this is a really beautiful city. Besides the shows we've been having a really good time down here doing things such as getting lost trying to fond our hotel (which is in the middle of nowhere), to playing pranks on eachother to getting drunk, to beating up little kids in the pool area, to semi trashing the hotel room. On the down side we're being pretty stingy on money therefore we haven't been eating properly and it's safe to say we're gonna be getting home about ten pounds lighter, not to mention all the walking we've been doing has been making us kinda weak. But none the less our spirits are still high, we're still having fun and things are enjoyable, and we also can't wait to get home to see all the people we're missing right now. So there will be another update sometime very soon after we get home. Bye for now folks.

Aug 9th
Well here we are in Minneapolis. Its been quite the trip so far. First of all we were stopped at the border and held there for 2 hours, because we didn't have a permit to come down to the states and make money off the fringe. It would have been nice if the fringe would have told us that we needed one. So Zalamtrig was able to strike a deal that he would call the fringe and get them to fax a letter to the border saying that the boiling brain pot would waiv their revenue (they would not get paid for doing the fringe). So here we are in Minneapolis, not making any money. Adam will still try to strike up a deal with the fringe for them to pay for the "accomodations". We've done two shows, we've had 21 people at each show which we figure was good for afternood shows in a city that doesn't know we exist. Fringe Central here is dead, nothing like the peg, people are seeing shows constantly and don't have time to sit somewhere and get drunk and mingle (which we miss). Our next show is on tuesday at 7, so we're hoping that we'll get a better turn out than what we've been getting. PS. We're making a documentary on the trip so wait till you see it. Bye for now, we miss you guys.

July 26th
This brings us to the end of the Winnipeg Fringe, thus the the end of the "Adventures of Clifford and Bernard" era. Now we go into "Brain Stem" mode, hence the web site changes. But we have to take the time to thank all the people who made our show run smoothy, Sheena Shand for Stage Managing, and Chris Joyal for postering and helping out backstage. We also have to thank some other companies; The Steve Breadstone Experience for advertising our show, Steve Sim for putting Adam on the Big Stupid Improv, Ron Moore for an awesome review on your web site (And for letting me crash at your house), Improvision for being pals and letting us plug our last show. Thanks allot guys, it was a great fringe, we all had a blast and it wouldn't have been as much fun with out you.

July 21st
Well we've got reviews from both the Winnipeg Sun and Free Press now, the write ups are good, but they didn't give us a high star rating which is strange, no one had anything bad to say about the show, which is good. We don't really care too much about what the press has to say anyways, its the fans that count. So far the fringe had been great and its just gonna get better, hope to see you guys at one of next shows.

July 18th
Last night was an awesome show, we sold out our venue and had a great crowd. We would like to thank everyone who came to the show, and who came out to party until 6:30 in the morning afterwards. We love you all and if you didnt make it, you still have four more shows to make it to.

July 16th
Last night was our first fringe show ever, it could have been worse and it will be better. We had a good turn out seeing that we were competing with more established comedy acts in that time slot. One of the CBC's reviewers seemed to really enjoy the show and gave us a really good review here it is for you.

" This is the Fringe at its best, folks. No, its not the calibre of show youd want to see at mainstage MTC but its young, its clever, its utterly silly, and it keeps the audience laughing from start to finish. Adam Johnstone and James Rogers, founders of The Boiling Brain Pot company are joined by hired guns Joel Passante and David Skene in this hilarious tale of coming of age (sort of). Joel and David play two 17-year olds intent on seeing an R-rated movie. They embark on a ridiculous adventure to purchase false IDs during which they encounter a slew of fabulous characters (played by Adam and James) including a Russian bouncer, a weak-hearted rapper, a toothless card-collecting bum, hirsute prostitutes of both sexes, wizards, hunchbacks, and vim-eating old folks. Yes, its all ridiculous, but the character acting is great!
Go see this very entertaining and talented young troupe! Venue 7" Kat Rother CBC.

Also don't forget to check out Adam in tonights Big Stupid Improv, Venue 24 at 7:30.

June 28th
The Winnipeg Fringe Trailer is now on the cbc web site it can be found right here. PS. CBC kinda fucked up the sound some how, its like super clipping but its still listenable.


All the other fringe trailers by other companies can be found here.

June 16th
Keeping busy. Not only are the boys hard at work preparing for two fringes but they've also been spending time in BBP studios preapring for a new album of all original works, as the new songs are finished they will be posted. Here's some pics of Adam and James at work in the studio.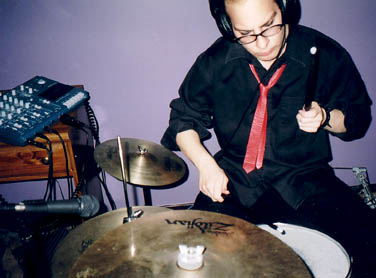 May 15th
Winnipeg Fringe News: We got our venue and performance times. We are in Venue #7, The Conservatory, 211 Bannatyne (Crocus Bldg, S Entrance). And our performance times are:
Thu, July 15 7:00 PM
Fri, July 16 12:30 PM
Sat, July 17 Midnight
Wed, July 21 11:00 PM
Fri, July 23 2:00 PM
Sat, July 24 6:00 PM
Sun, July 25 7:00 PM
If you are ever in need of information just check our Winnipeg Fringe Microsite which can be found on our homepage.


May 7th
April 26th
Two seperate Mircosites have been made for our two Fringe Shows in
Winnipeg
and
Minneapolis
. They will have all the info you need and will be updated as we get more news.
April 14th
April 5th
Well the boys are pretty much done this years worth of university. This means that in the next few months they will be working hard re-writing the fringe play and going into pre-production, rehearsals as well as preparing for the Minnesota shows. Hopefully some venue info and performance times will be available soon. The Boiling Brain Pot will also be in the studio in the next few weeks making some new songs for your listening pleasure. they will be available at
www.audiostreet.net/theboilingbrainpot
as they are finished, and don't worry will let you know when they are up. Until then here's a preview of one of the songs, if you were at "Brain Stem" youe've already heard it, but why not listen again?
click here to download
CPR Team demo.
March 25th
Whaja Bajum!! The time has come. You've seen the sketch now get the shirt right
here
, and also check out other changes made to the online store.
March 8th
What the hell has happened to the website? you may be asking. Well since we are doing a play for the Fringe this year for a change we feel we need. We thought that the website should make a temp change as well, to help bring in this new era.
In other good news, we have finally found another mp3 hosting site. It is much like mp3.com was just before it shut down, and here it is.
www.audiostreet.net/theboilingbrainpot
hope you enjoy.
March 7th
HOLY SHIT! Last nights "Brain Stem" was our first ever sell out show! We had a great crowd and we thank you all very much for coming down to see us. We would like to thank Levon Cheater for helping us out with some improv for the first half hour of the show, seeing that no one from our opening act showed up. Also thanks to Joel Passante for being our guest brain, Sheena Shand, JR Francisco, Sean Allen, Chris Joyal, and all our fans. "Brain Stem" will be our last sketch show in Winnipeg for a while seeing that now we're working on the fringe show which will be a play, then we go to Minnesota. Keep checking back for Fringe updates, and thanks again for last night.
PS. Promotion Pics for
Brain Stem
have been added to the site.
Feb 14th
Last Nights "Our Musty Superfluity" variety show was a pretty strange experiance. First of all the venue was anything but a theatre, it was a mat on the floor surrounded by lawn chairs. The backstage and washrooms was something out of snuff porn film. Our set was pretty bad, we had our first "off" night ever, forgetting lines and mixing up the order of events. The other acts were pretty cool, Crumbs put on a really god set as did Improvision. The band DJ Particleboard were really funny and worth putting on our bad set for. The videos by Victoria Prince were as strange as the venue and The Absent Sound and Stilt Boy were amazing. Over all it was a really cool/strange night, and it was worth it.
Jan 31st
We have just gotten news that we have been accepted into the Minnesota Fringe that runs Aug 6th-15th. We will be doing 2 different hour long shows of our best sketches. Mike Campbell from the
Hemorhaging Halloween Hoopla
will be joining us for the outing and will become a full member of the BBP for our time there. He will also be asked to be our officail guest brain in most of our future shows.
Jan 28th
The Boiling Brain Pot has made it into this years Winnipeg Fringe Festival. This will be our first fringe show, and we will stray away from our usual sketch show and do full length play titled "The Adventures of Clifford and Bernard: Quest for the ID". Congrads to all who made it into this years fringe and good luck next time for those who didn't.
Jan 24th
We are in a varitey show!!!
Emerald City Productions Presents "Our Musty Superfluity" A Variety show featuring Comedy, Dance, Music, and Performance Art. Hosted by: Cory Wojcik, Feb 12,13,14. 8 PM $5 Featuring: Improvision, Ron Moore, The Boiling Brain Pot, The Imps, The ACME Theatre Co., The G-Force Improv, Chantel Marostica. At the old Baron Von Music (Music Baron) on Portage ave.
Jan 12th 2004
UP COMING SHOW: Our next show wil be on Sat March 6th 2004, at the Colin Jackson Studio (3rd floor Portage place insdie the PTE) It will start at 8:00pm tickets are $7.00. We will have the improv group "Outside Joke" opening up for us. Hope to see you all there
We will also keep you updated on current Fringe Fesitival news, like if we get in or not, as well as plans that we may have if we dont.
P.S. HAPPY BELATED NEW YEARS, we spent ours with Ed.